World-class B2B gemstone and jewellery fair to shine in Thailand for the first time from 26 to 29 April at Queen Sirikit National Convention Center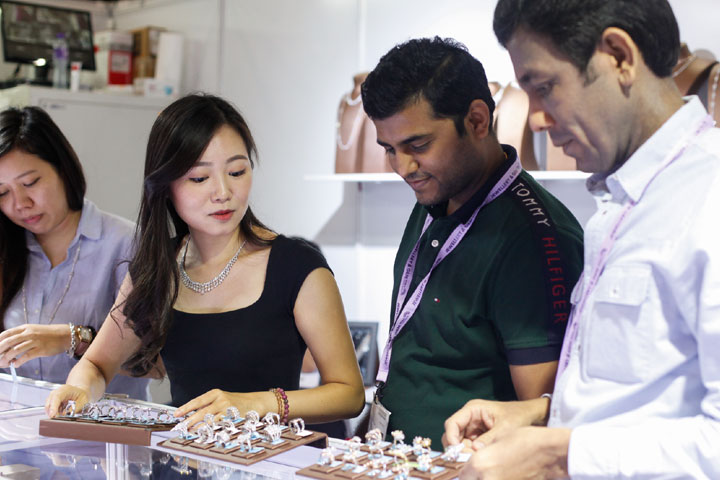 BANGKOK, January 2023 - Informa Markets Jewellery, organiser of the industry's No.1 B2B jewellery marketplace - Jewellery & Gem WORLD Hong Kong (JGW) - is gearing up for the much-awaited debut of Jewellery & Gem ASEAN Bangkok (JGAB) from 26 to 29 April in Halls 1 - 2 of the all-new Queen Sirikit National Convention Center (QSNCC).

Spanning close to 10,000 square metres of gross exhibition space, the industry's newest B2B jewellery and gemstone sourcing event is anticipated to bring together international buyers comprising retailers, wholesalers and manufacturers from around the globe, and jewellery designers from Southeast Asia.
JGAB has a diverse line-up of Thai and international exhibitors who will showcase key product categories including finished jewellery, loose stones, packaging solutions, tools and equipment, and gemmological services. Among the fair's core attractions are duty-free jewellery and accessories from international markets.

Commenting on JGAB's pilot edition, Anna Vichvech, Event Director of Informa Markets Thailand, said, "JGAB will further energise the industry as the world transitions to a post-pandemic economy. It will also enhance Thailand's position as a significant centre of global trade and reinforce Bangkok's standing as the gemstone and jewellery sourcing capital of the world."

Located in the heart of Southeast Asia, Bangkok is the perfect home for Informa Markets Jewellery's newest B2B sourcing fair, Anna continued.

"Ideally timed for buyers positioning their inventories for the coming peak selling seasons, JGAB is leveraging Bangkok's strengths as one of the world's top travel destinations and the gateway to a regional market of more than 660 million consumers," she said.

Also elevating the sourcing experience is the venue itself. The iconic QSNCC is easily accessible through the BTS Skytrain and the MRT Subway. It also has a parking area that can accommodate up to 3,000 vehicles.
Anna added, "By drawing on our global reach, local knowledge and industry expertise, we are confident that JGAB will become one of the region's most important gemstone and jewellery sourcing destinations, and a growth driver for Thailand's MICE (meetings, incentives, conferences and exhibitions) industry."

###
About Informa Markets Jewellery

Informa Markets creates platforms for industries and specialist markets to trade, innovate and grow. Our global jewellery vertical, Informa Markets Jewellery, offers in-person and web-based sourcing experiences, digital solutions and dedicated B2B platforms that bring international buyers and quality sellers together in the fine jewellery, gemstone, and fashion jewellery and accessories markets. Our resources, industry experience, influence and focus as a partner are enhanced by our global jewellery portfolio consisting of fairs and events in key cities; a powerful digital platform - JewelleryNet; a dedicated Jewellery Media team, led by flagship publication, JNA; an education-based programme - Jewellery & Gem Knowledge Community, and the industry's most prestigious awards programmes - the Jewellery World Awards (JWA, previously known as the JNA Awards), and its regional edition, JWA Dubai. imjewellery.jewellerynet.com

###